US Military Vets M/C

"514"

Brief History
The U.S. Military Vets MC was established in 1987, in Fort Lauderdale, Florida and is incorporated as a non-profit organization. The club as a national organization strives to achieve the following:
Club Objectives
To provide a club for qualified military veterans which offers brotherhood and an opportunity to establish relationships with other military veterans who have served in the defense of the United States of America.
To establish and support a strong sense of pride in having served in the active military service of the United States of America.
To improve the image of military veterans and bikers to the general public.
Who We Support

We support our Troops and Veterans. We are always willing to participate in events that support our Troops and Veterans. We support our troops by giving away Christmas trees to local military in and around the Atlanta area. We support our local veterans by riding to the Georgia War Veterans Home in Milledgeville, Ga to visit with the veterans living there. In addition to this we also sponsor a special needs baseball team located in Douglas County, Ga. To help us support these great causes send any donations to the mailing address located in the contact us tab.

Coach Philip And The Mighty Challengers!!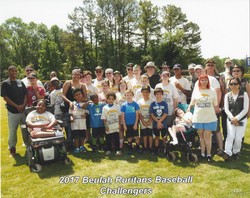 *You Can Help Us Support The Challengers By Sending Donations To The Address listed on the bottom of the "contact" tab.*